Voltage Tester, AC 90V~1000V Voltage Alert Pen Type, Multifunction Test Pen with LED Light and Sound Alert, Non-Contact Voltage Detector Pen (Battery Included)
This product is to be used for electrical fault finding. Very nice n safe probe for detecting high voltage without touching to the live part of electrical connections.
Good product, working as described. Very useful. One should have this in his tool kit. Though I have not used it much, but good product and works as described
WHY YOU NEED THIS MULTIPURPOSSE CLEANER
SAFETY FIRST: It will send out multiple alarms through sound and light. When the voltage is detected, the tip will send out red light and beep. When the higher the sensed voltage is, or the closer it is to the voltage source, it beeps at a higher frequency. At the same time, the screen will be red or green, red means high voltage and live wire are detected, green means low voltage and null wire are detected.

NON-CONTACT: With NCV inductive probe for AC voltage; Just place the tip near a terminal strip, outlet, or supply cord. When the tip glows red and the pen beeps, you know there's voltage present. The live wire detector can automatically detect the live or neutral wire. Ideal for breakpoint Test. Handy circuit tester for electricians, homeowners.

DUAL RANGE: Detects standard and low voltage (12-1000V AC / 48-1000V AC) for more sensitive and flexible measurements. Press the S button to adjust sensitivity and adapt low range for doorbells, thermostats, irrigation wiring etc.; The NCV sensor automatically recognizes the voltage and displays it on the bar graph.

SECURITY LEVEL: IEC rated CAT III 1000V CAT IV 600V, Meets CE requirements; The electrical tester is safely double insulated. High Voltage Alert to warn you of voltage above 90V, the screen turn red and the safety symbol on the screen shines.

Intelligent and Convenient Design: This voltage tester come with a bright LED flashlight for work in dark ares and the low-power-indicator will work when battery voltage is lower 2.5V; Automatic Power Off after 3 minutes without operation or signal detection; Pocket-sized, pen hook allows you to carry it in your shirt pocket.The electricity tester uses 2 * 1.5 V AAA batteries (included)

 

COMPACT DESIGN: Bright LED flashlight for work in dim ares; Low-Power-Indicator when battery voltage is below 2.5V; Automatic Power Off after 3 minutes without operation or signal detection; Pocket-sized, pen hook allows you to carry it in your shirt pocket. We provide 36-Month after sale service, Please feel free to contact us if you have any concerns.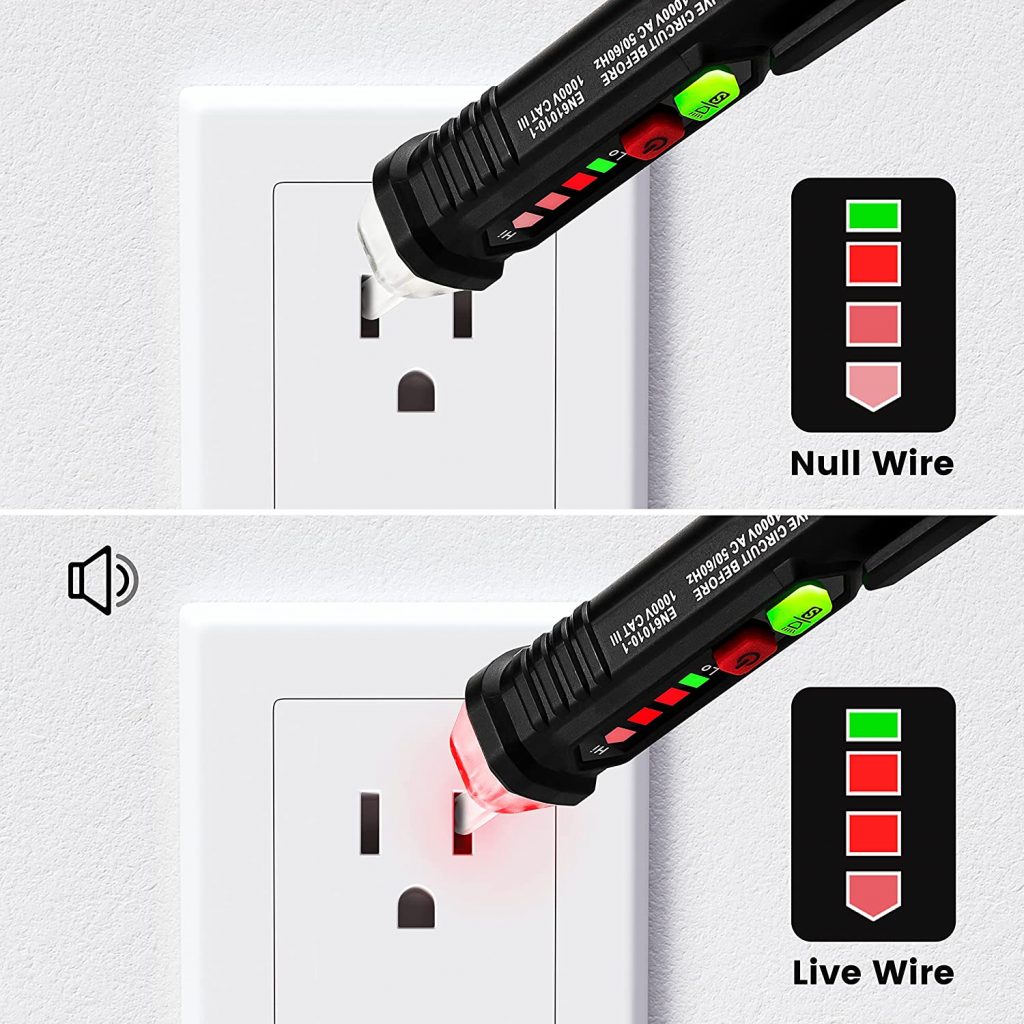 PRICE = N20,000
PRICE =
N13,500
DISCOUNTED OFFER: GET 1 FREE ANYTIME YOU MAKE AN ORDER FOR 3 PIECES. N13,500 TODAY ONLY
HOW TO PLACE YOUR ORDER:
KINDLY FILL THE FORM BELOW (ONLY IF INTERESTED) AND ONE OF OUR AGENTS WILL GIVE YOU A CALL SOON 
CAUTION
Our Esteemed Customer, Please, Do Not Place An Order If You Are Not Ready To Receive The Product(s) Yet, You Are Travelling, or You Don't  Have Your Money Handy.
Please, Help Us To Serve You Better.