Precision Screwdriver Set, 138 in 1 Professional Electronics Repair Tool Kit, with 117 Bit, Compatible for Computer, Laptop, MacBook, PC, Tablet, PS4, iPhone, iPad, Xbox One Controller, RC Car
I used this tool a lot as soon as it arrived. I used in in a variety of things that requires small screws and odd shaped screws. Found the right size to remove the most stubborn screws.
Just used it for the first time to open up an ASUS laptop to replace the internal battery. Kit has lots of bits for laptops and cell phones etc.. Good price. I wish I had this kit when I worked on my Television.
WHY YOU NEED THIS INNOVATIVE MULTIPURPOSE TOOL KIT
【Wide applications】138IN1 Precision Screwdriver Kit contains 117 types of bits (Phillips, Flat, Torx, Triwing, Pentagon, etc.) and 21 accessories such as extension rods, flexible extension shaft, extension bit holder and magnetizer, magnetic mat, pry bars, triangle picks, Suction Cups for MacBook, Laptop, Tablet, PC, Cell Phone, PS4, Xbox, Camera and other Home Appliances. Whether you're a professional or a hobbyist, this Repair Tool Kit will solve all your repairs.

【Ergonomic Design】The screwdriver handle adopts a streamlined and grainy design, which perfectly fits the hand shape, with a comfortable grip and easy rotation. The handle end cap can be rotated 360 degrees, allowing you to operate with one hand during maintenance. If you have this set, you can maximize your repair capabilities while enjoying the fun of repairing.

【Damaged Screw Extractor Kit】 Stripped Screw Extractor Set(#6, #7, #8, #9, #10) can easily and quickly remove all common sizes of damaged, broken or stripped screws. This set includes one extension bit holder, making it a conveniently comprehensive kit. You can put it in your electric drill, select the right size bit, then you can work.

【Magnetic Design】This computer tool kit has 2 magnetic tools to help you complete repairs efficiently. The 5.6*3.3 inch magnetic pad can keep all the tiny screws and parts neatly arranged and prevent them from being lost. Depending on your needs, the Magnetizer tool can help increase the magnetism of the screwdriver to hold the screw firmly, or weaken its magnetism to prevent damage to your electronics. Whatever what you want, this kit can make your repair work go smoothly.

【Quality Guarantee】 All drill bits are made of high-quality 60HRC chrome vanadium steel, which has the characteristics of anti-wear, anti-oxidation, anti-corrosion and firmness. It is harder and more durable than ordinary steel. The repair tool box is portable and convenient to carry with complete functions. What are you hesitating about?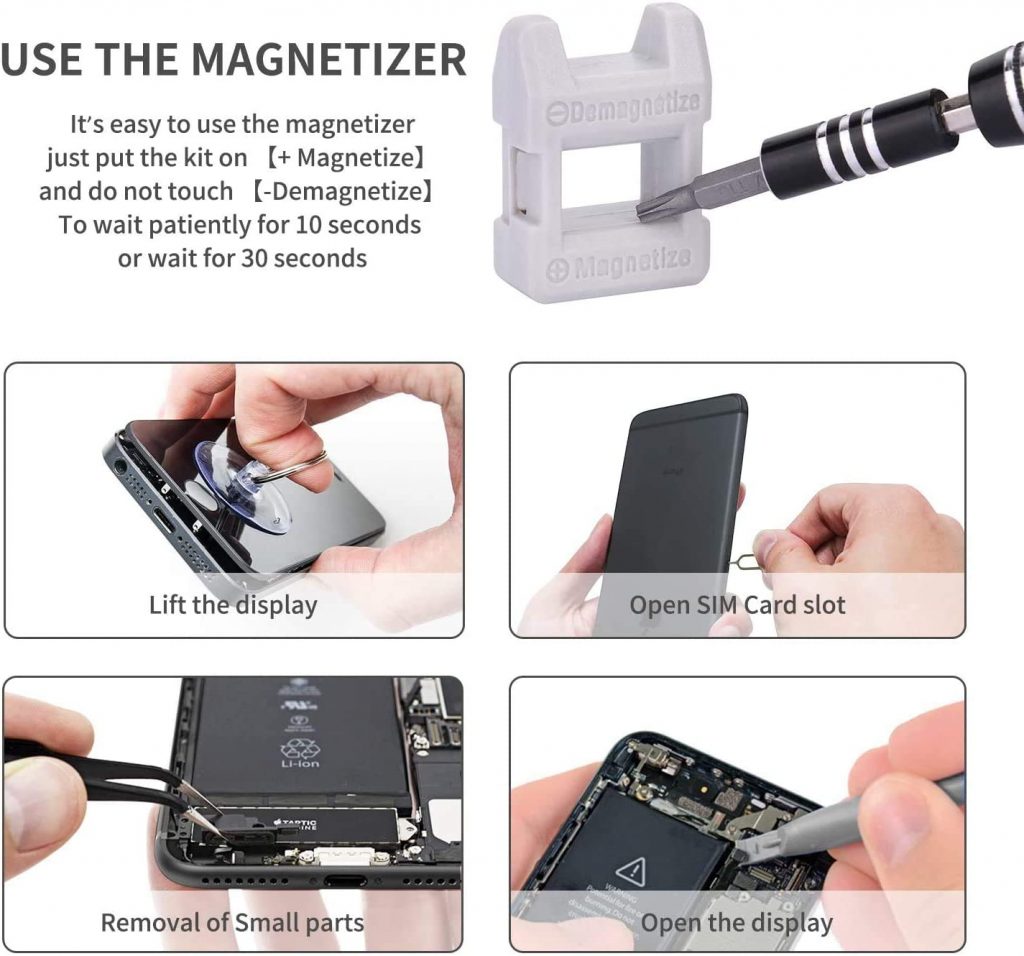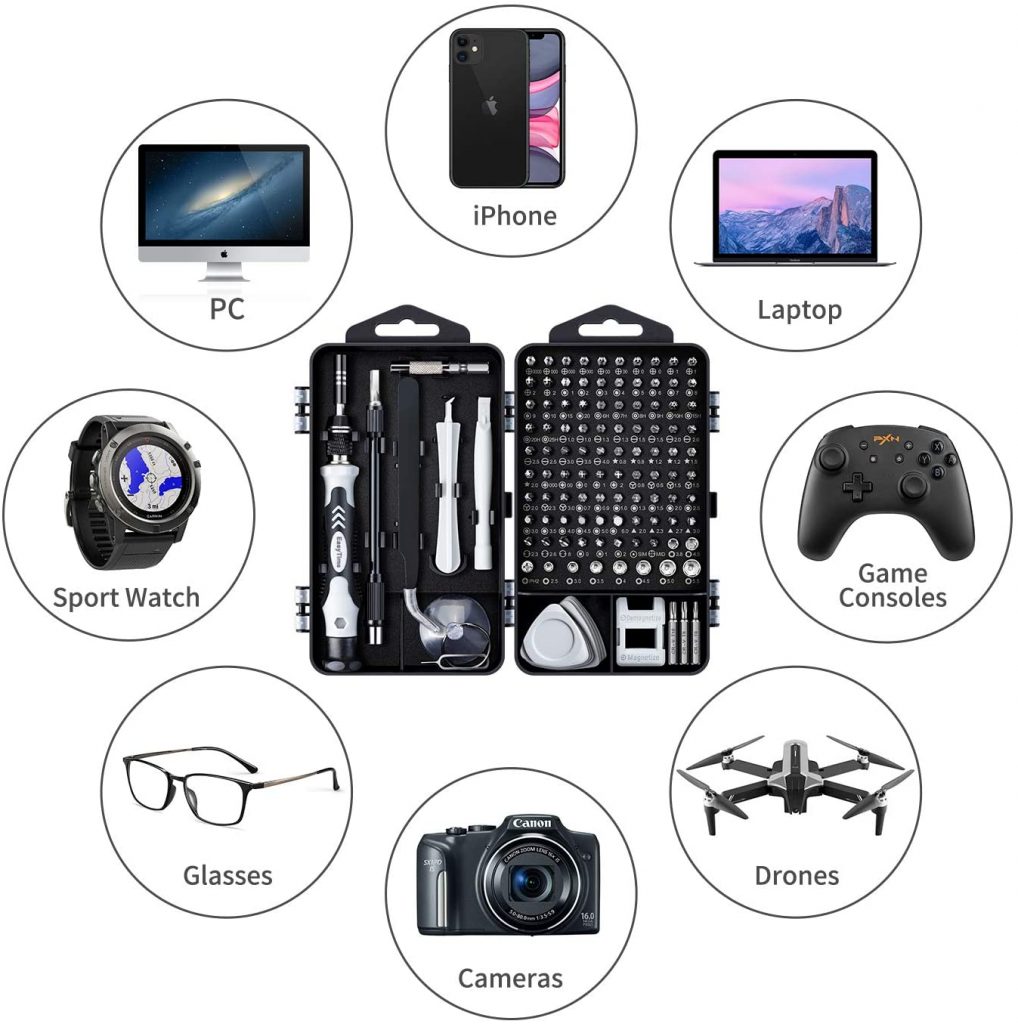 PRICE = N25,000
PRICE =
N15,000 ONLY!
DISCOUNTED OFFER: GET 1 FREE ANYTIME YOU ORDER FOR 3 PIECES!! TODAY ONLY!!! TODAY ONLY
PACKAGE INCLUDES:
101 bits and 10 Damaged Screw Extractor Set and 6 mini wrenches
21 repair tools: screwdriver, magnetizer, magnetic pad, crowbar, plastic prying tool, bevel tweezersa, brush, suction cup with SIM card eject pin.
The tools needed for daily maintenance work are all included in the kit.
HOW TO PLACE YOUR ORDER:
KINDLY FILL THE FORM BELOW (ONLY IF INTERESTED) AND ONE OF OUR AGENTS WILL GIVE YOU A CALL SOON 
CAUTION
Our Esteemed Customer, Please, Do Not Place An Order If You Are Not Ready To Receive The Product(s) Yet, You Are Travelling, or You Don't  Have Your Money Handy.
Please, Help Us To Serve You Better.
PLEASE DO NOT TO PLACE AN ORDER IF YOU WILL NOT BE AVAILABLE TO RECIEVE IT
PLEASE NOTE THAT A COMMITMENT FEE OF #2000 IS REQUIRED TO BE PAID INTO OUR COMPANY
ACCOUNT NAME: MCFYNEST STORE
ACCOUNT NUMBER: 0254007896 (Guaranty Trust Bank)
IN OTHER TO VALIDATE YOUR ORDER WHILE A BALANCE OF #13,000 WILL BE PAID AT THE POINT OF DELIVERY